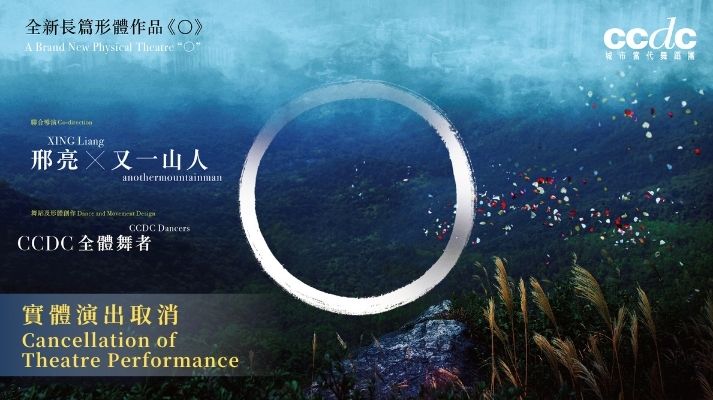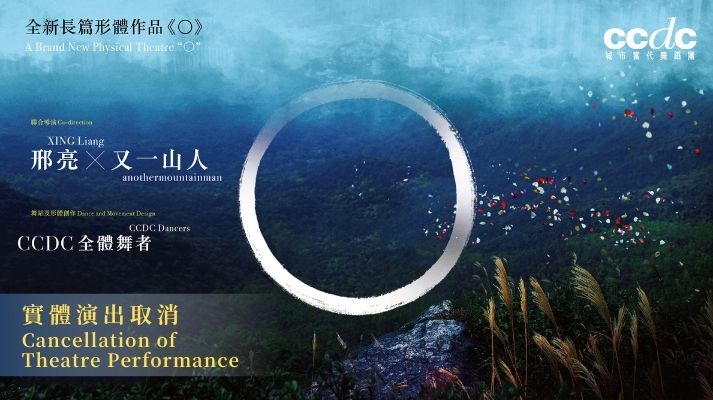 Cancellation of Theatre Performance
In view of the situation of the COVID-19 pandemic, the physical theatre "〇", originally scheduled on 19-20- Feb 2021 at Auditorium, Yuen Long Theatre, will be cancelled. We apologise for any inconvenience caused and appreciate your patience.
Although the performances at theatre are cancelled, we are planning to showcase "〇" in another format. Please stay tuned for more details.
Ticket Arrangement
Anyone with a valid ticket may choose one of the following options:
Donate your ticket to CCDC's Student Ticketing Donation Scheme
Refund will be made by transferring the refund to your bank account.
For audiences who purchased 〇 please fill in Donation/ Refund Form on or before Sunday, 28 Feb 2021.
For any enquiries, please call +852 23297803 during office hours (Monday – Friday 10am-6pm, except public holidays) or contact us on info@ccdc.com.hk.
CCDC held an online open rehearsal of physical theatre "〇" on April 30 evening, presenting the excerpt of the extraordinary creation by choreographer Xing Liang, visual artist anothermountainman, CCDC dancers and the team in the past three months facing the predicament.
Before the open rehearsal, the was the site-specific dance performance Momentum (Episode I) by choreographers Xing Liang and Mui Cheuk-yin, bringing us to the summit of Victoria Peak and return to dance's origin.
To know oneself is to understand the heart of the problem.
It all comes down to the mind.
Three years since they collaborated on Dance Goes On, "choreo-philosopher" (choreographer and philosopher) Xing Liang and multidisciplinary visual artist anothermountainman once again join hands to create 〇. This time, they place a magnifying glass over human nature, revealing it with a sense of subtleness. The real selves of the dancers emerge after shedding their myriad identities. Who will they turn out to be?
With the help of a group of amazingly talented artists, brilliant sound artist Paul Yip; promising fashion and costume designer Yeung Chin; the Company's Resident Lighting Designer Lawmanray; and Ribble Chung, an established producer of performing arts as dramaturge, CCDC presents a brand new type of physical theatre production where the audience may find a place of safe haven.
Programme Enquiries 2329 7803
Discount Schemes at URBTIX
10% discount 
Paid Members of Fringe Club, Club Bravo Member of Hong Kong Philharmonic Orchestra, Member of Energy Fun Club Plus of Chung Ying Theatre Company, Friends of The Hong Kong Ballet, Friends of Hong Kong Chinese Orchestra, Friends of Hong Kong Dance Company (Classic + Prestige), HKREP Pals, Zuni's Friends, Members of Hong Kong Dance Alliance, HKIFF Cine Fan Patron, Classic and Student Privilege Cardholders, Members of E-Side Dance Company, Members of Yat Po Singers, Friends of POP Theatre, CASH Members
20% discount
Holders of CCDC Dance Card and Kids Card, Members of APA Alumni Association, Members of the Federation of HKPU Alumni Associations, CityU Alumni Card and Alumni Credit Cardholders, Members of Hong Kong Arts Administrators Association, Members of RTHK Programme Staff Union, Modern Dance Friends of GMDC
30% discount
Dance Inspirations Card Holder
50% discount
Full time students, senior citizens aged 60 or above, people with disabilities and Comprehensive Social Security Assistance recipients
60% discount
Student Dance Inspirations Card Holder
XING Liang ╳ anothermountainman╳CCDC Dancers
the artists
Co-direction
XING Liang, anothermountainman
Dance and Movement Design
CCDC Dancers
Dramaturgy
Ribble CHUNG
Sound Art and Live Performance
Paul YIP
Lighting Design
Lawmanray
Costume Design
YEUNG Chin
Sound Design
HA Yan-pui
Feb 19 – 20, 2021
19.2.2021 (Fri) 8pm
20.2.2021 (Sat) 3pm, 8pm
Auditorium, Yuen Long Theatre
EVENT DETAILS