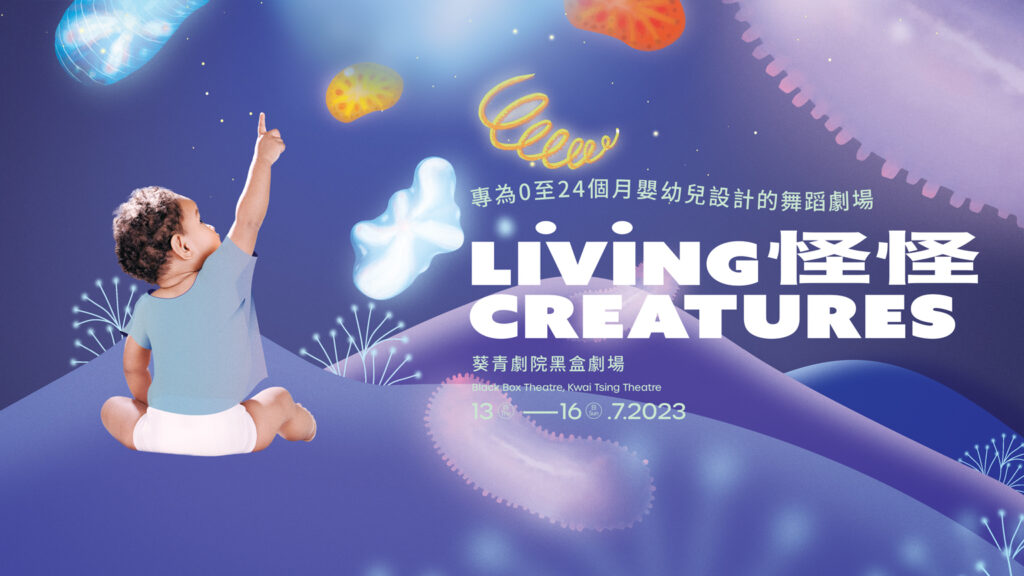 Crawl into the world of four strange creatures
With the arrival of spring, four strange creatures break out of their shells! Each of them possesses a distinct call and rhythm, gathering different objects around them, striking poses for the camera, spinning around and taking flight in dance as they explore the world. We invite every baby to use both hands and feet on this adventure into a new kingdom!
Living Creatures is an immersive dance theatre piece specially designed for newborns up to 24-month-olds, utilising dance, music, lighting and props as well as the environment to stimulate sensory development. Enticed by the four creatures, babies will happily wave their arms and legs in movements you've never seen before. Let them open all five senses as they freely discover our exciting world!
13-16.7.2023 [四-日]
11:30am, 2:30pm, 4:30pm
Black Box Theatre, Kwai Tsing Theatre
$260 (Free Seating)
Tickets are now available at URBTIX.
Creators and Performers
Alice Ma, Ronly Kong, Mary Jane Tang
Performers
Annie Au, Chloe Ma, Jasmin Wong
Composer and Live Music Performer
Tim Chan
Set and Costume Designer
Edmond Kok
Lighting Designer
Lawmanray
Produced by
City Contemporary Dance Company CCDC Dance Centre
Presented by
*The concept of this performance is developed from CCDC Dance Centre's Artist-in-Residency Programme with Dalija Acin Thelander (Sweden) as advisor in 2019 & 2020
Group Booking Discount for stage / film programmes:
Each purchase of 4 – 9 standard tickets enjoy 10% off
Each purchase of 10 – 19 standard tickets enjoy 15% off
Each purchase of 20 or more standard tickets enjoy 20% off
Package Discount for stage / film programmes:
Each purchase of standard tickets for 3 – 4 different stage / film programmes enjoy 10% off
Each purchase of standard tickets for 5 or more different stage / film programmes enjoy 15% off
Approx 1 hr with no interval. Audiences is free to enter and exit the venue at anytime.
For 0- to 24-month-olds babies and their parents only.
Includes a 15-minutes phototaking session before the programme ends.
Limited half-price tickets for babies are available on a first-come-first-served basis
One ticket required for each person regardless of age
Children must be accompanied by parents or adults
Audience will be seated on the floor and is requested to take off their shoes before entering the performance area. Please dress casually and wear socks.