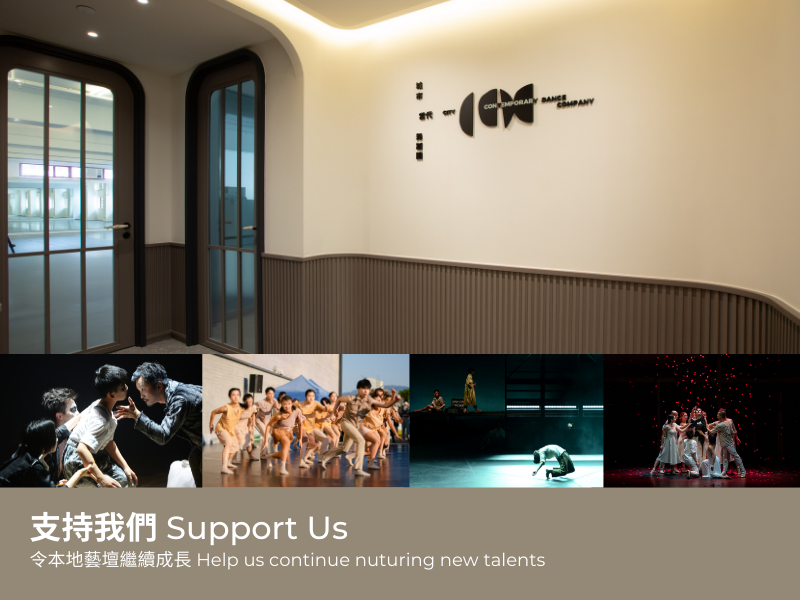 Contemporary performing arts have entered a new era. In spite of the challenges in the changing environment, CCDC continues to promote the cultivation, research and innovation towards establishing new values for dance in our city. Your support enables us to underpin our sustainable development and explore artistic horizons, shaping a better local arts scene.
Funding Schemes:
(1) Arts Development Fund
Supports original productions that reflect the vigour and creativity of Hong Kong's vibrant culture and showcases the artistry of local choreographers, designers and home-grown dancers.
(2) Dance Education Fund
Supports dance education by providing training scholarships to talented young dancers and funding to the student ticket scheme, which allows students to enjoy performances at a lower price.
(3) China Dance Development Fund
Supports the China Dance Development Programme, which strengthens the connections between artists and organisations in Chinese cities, while broadening the arena for dance development in Asia.
(4) Digital Media Development Fund in Contemporary Dance
Supports the promotion and commission of local dance video productions for the annual Jumping Frames International Dance Video Festival founded by CCDC to facilitate creative collaborations and artistic exchanges among directors, artists and choreographers in Asia.
Donors Privileges:
VIP tickets to all CCDC performances

Invitations to exclusive cocktail receptions and events

Acknowledgements in CCDC's house programmes, website and annual report for 12 months
Donors Categories:
DIAMOND Patron (Donation of HK$500,000 or above)

PLATINUM Patron (Donation of HK$100,000-HK$499,999)

GOLD Patron (Donation of HK$50,000-HK$99,999)

SILVER Patron (Donation of HK$30,000-HK$49,999)

Patron (Donation of HK$10,000-HK$29,999)

Friend of CCDC (Donation of HK$3,000-HK$9,999)

Student Ticket Scheme Donor
CCDC belongs to the Hong Kong Government's Art Development Matching Grants Scheme, where every dollar is matched by $1.
Donations of HK$100 or above are tax-deductible.

CCDC gratefully acknowledges the following corporations and individuals for their donation:
Become our Friend or Patron!
For more information, please contact us at 2326 8597  or email: giving@ccdc.com.hk.
Diamond Patrons of CCDC
(Accumulated donation of HK$500,000 or above)
Rainbow Textile (Holdings) Limited
Sik Sik Yuen
Anonymous
Dr Hayley KAN Mee-lin
Platinum Patrons of CCDC
(Accumulated donation of HK$100,000 – HK$499,999)
Centaline Property – Centaline Club
Chi Hong Charitable Foundation Limited
Tom Brown Memorial Fund
Anonymous
Mr Henry CC CHAN, MH, JP
Ms Yama CHAN
Mr LAM Chiu-ying
Dr Ivy TAO Hsu-hwa
Dr Michelle TSUI Hang-yuet
Mrs YEN LEE Yin-chiu
Gold Patrons of CCDC
(Accumulated donation of HK$50,000 – HK$99,999)
Ng Teng Fong Charitable Foundation
Victory Shine Properties Limited
Anonymous
Prof Anna CY CHAN
Ms Vienne CHENG Wai-wah
Mr FONG Si Lung
Mrs Sophia KWAN
Mr Kenneth LEUNG Kai-cheong
Ms Ellen TSAO
Silver Patrons of CCDC
(Accumulated donation of HK$30,000 – HK$49,999)
The Centre for Spiritual Progress to Great Awakening
Anonymous
Ms Sophia KAO Ching-chi GBS, SBS, JP
Ms KWAN Sau-ching
Ms LAI Sim-fong
Prof Bernard LIM, JP
Prof Eva MAN Kit-wah
Mrs Jessica ONG CHAN Siu-kar
Patrons of CCDC
(Accumulated donation of HK$10,000 – HK$29,999)
606 Music Research
Corrupt The Youth
IGM Hope Foundation Limited
Sun Hung Kai Real Estate Agency Limited
T & O Fine Arts Production Co.
TangoTang, The Hong Kong Tango Club
Yip Foundation Limited
Anonymous
Anonymous
Dr Raymond CHAN, JP
Ms Grace CHIANG
Dr Miranda CHIN
Prof Fanny CHUNG Ming-yan
Ms Ribble CHUNG Siu-mui
Friends from Malaysia
Ms FUNG Sheung-chi
Ms Helen LAI
Ms Yvonne TSUI
Mr Stephen WONG Kai-yi
Ms Joyce YEN
Friends of CCDC
(Accumulated donation of HK$3,000 – HK$9,999)
BEYOND Bollywood Limited
E-Side Dance Company
Kongtact Square
St. Mary's Canossian College
Tn Peacock
Anonymous
Anonymous
Anonymous
Anonymous
Anonymous
Anonymous
Anonymous
Anonymous
Anonymous
Anonymous
anothermountainman
Amelie and Angus
Ms Candy CHAN
Ms CHAN How-yan
Ms CHAN Lai-nga
Ms Ann CHAU
Mr CHONG Chan-po
Mr Force FONG
Mr GOH Boon Ann
Mr Brett GORDON and Ms Carrie COX
Ms Karen HO
Mr KONG On-tai
Dr Maggie KOON, BBS, JP
Ms KWOK Wing-yin
Ms Hoi-yan LAI
Ms Stella LAU
Ms Rachel LEE
Dr LIU Tong Rita, SBS
Ms LIU Wai Fun
Mr & Mrs LIU Wai Lun Jeffrerey
Mr Peter LO
Dr Susan LOUIE
Ms Florrie K F NG
Mr ONG Yong-lock
Ms Edith SHIH
Miss Yvonne TANG
Mr Man-leuk TONG
Ms Ada TSANG Yim-yu
Ms Renee TSANG
Ms WONG Wai-chun
Ms Shirley WONG
Ms WU Yi-san
Mr Ronald YIP and Ms Maggie LEE
Mr Christopher YIU Chi-pang
Student Ticket Scheme Donor
Ms Yama CHAN
Ms Eunice CHEUNG Siu-wan