Fee Per Course: HK$980;HK$833 (CCDC Dance Card Holder)
* One Hour Special Courses are not applicable to Flexicoupon, Discounts & Dance More Get More are not applicable to the above offers. The offer cannot be in conjunction with other discount offers.
Yoga for Shoulder & Neck – Elementary
Relaxing the joint and stretching the muscle of shoulder and neck though Yoga, it lessens the pain gained from daily usage of electronic devices and negative emotion. By strengthening the muscle power with continuous practices, it helps to correct bad posture. Stay healthy and be strong! The lesson is suitable for all
Introduction to Breaking – Introductory
Learn Breaking from professional instructor. Breaking technique is traditionally composed of four parts: toprock, downrock, power moves, and freezes.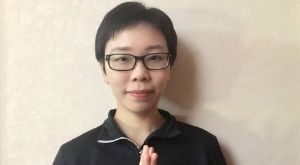 Serving in education for over a decade, Eva possesses abundant teaching experience which made her good at taking care of students' needs. Over many years of her yoga practice, she deeply feels how yoga can change our bodies, prevent them from exhaustion and pain and calm the emotions, leading to a body-mind union through the breath.
Eva now works as a full-time yoga instructor, teaching different styles of yoga in several yoga centres, community centres and private clubhouses. She continues to study overseas to widen her scope of teaching, e.g. Hatha, Vinyasa, Restorative Yoga & Yoga Nidra etc.