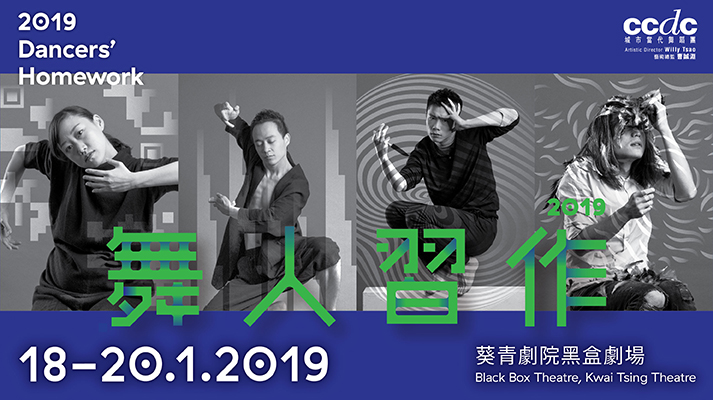 New choreography mixed bill  Four emerging CCDC artists
A showcase for CCDC dancers to express their choreographic talent, the acclaimed Dancers' Homework returns in 2019 with exciting new works!
Generation Beta by Shirley LOK
"The old things have come to an end; they have truly become new." (II Corinthians 5:17)
Bodies can be repaired
Thoughts can be tampered
Memories can be copied
What does it mean to be human in the age of digital disruption?
Maybe… it is time to unplug and go back to nature to seek guidance?
Shirley Lok questions how technological development changes our bodies and mind, shaping a completely new set of social norms and values.
Voyage by Ivan CHAN 【Text】
People and traffic goes back and forth in the city, unceasing
Wicked kids, rotten souls, unbridled lust
In between motion and stillness
In search of floating hints
Extracted from and inspired by everyday life, Ivan Chan depicts the absurdity of our lives and desires.
Zen by LEE Ka-ki
We are anxious to survive
The turmoil of everyday busy life
Hurry here and there, to meet with people who don't really care
When is it going to be changed?
Listen to your own voice and step out of your own pace
Surrounded by overwhelming noises and happenings, Lee Ka-ki re-examines his own pace and see a way out of the chaotic world.
Terry-fy by Terry TSANG
They are everywhere
Long, frizzy, matted
Winding around
On the street, in the house, all over me
Terry Tsang exposes his fear of hairy objects in this dance solo.
Programme Plus – FREE Admission
 2019 Dancers' Homework Open Rehearsal
5.1.2019 (Sat) 11AM
Studio 1, CCDC Dance Centre
Choreographers in appearance: Ivan Chan, Shirley Lok & Terry Tsang
the artists
Choreography
Ivan CHAN, LEE Ka-ki, Shirley LOK, Terry TSANG
Lighting Design
Lawmanray
Original Music, Live Performance and Sound Design
LEUNG Po-wing
Jan 18 – 20, 2019
18~19.1.2019* [Fri~Sat] 8pm19~20.1.2019 [Sat~Sun] 3pm
* With post-performance meet-the-artist sessions
Black Box Theatre, Kwai Tsing Theatre
EVENT DETAILS