M.U.D. – Movement UnDefined 2022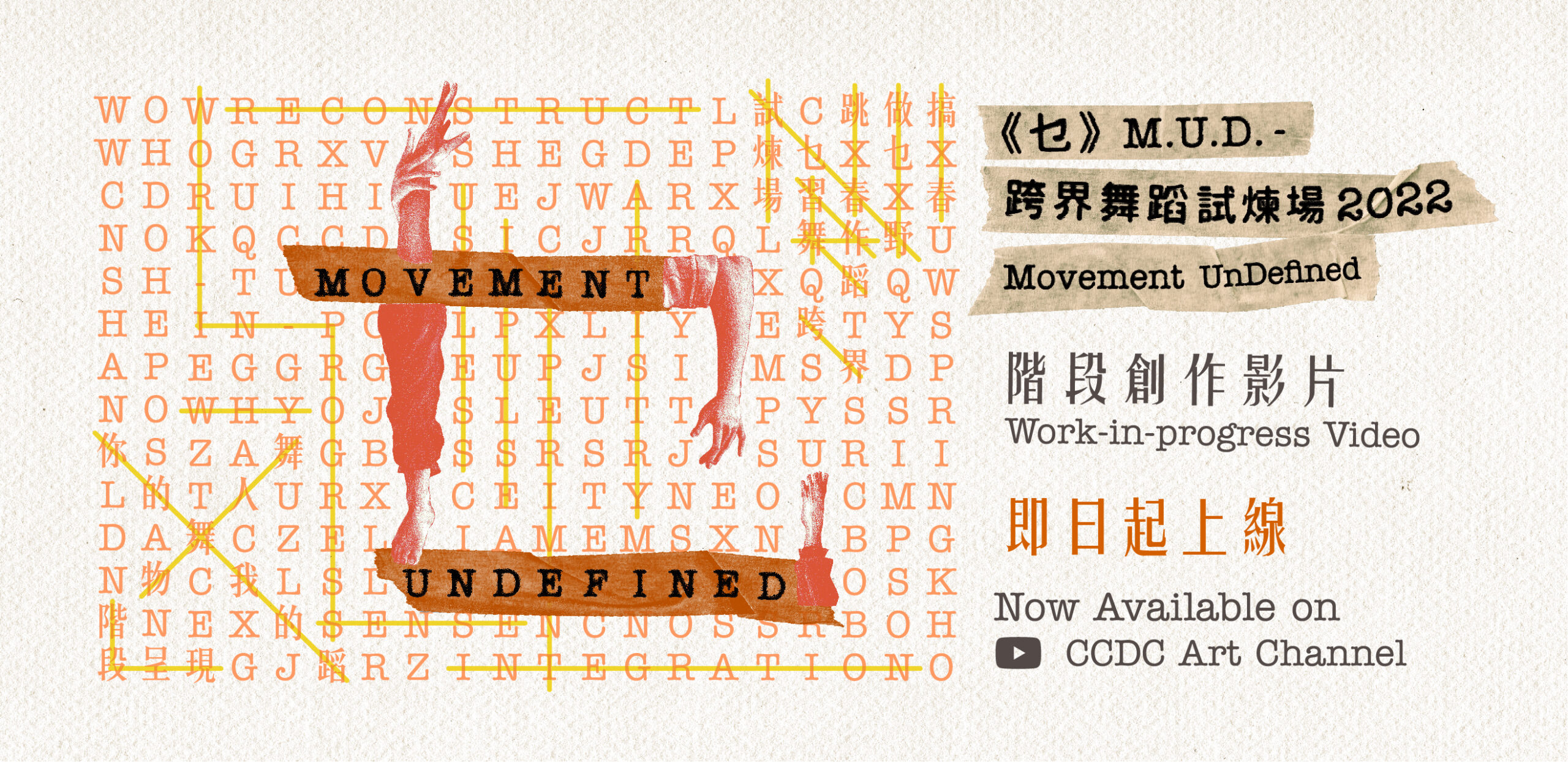 Work-in-progress Video Available Now
As stated by the company's artistic director Yuri Ng, "The situation we are facing may seem disappointing… M.U.D. hopes to break these constrains, to rediscover possibilities in contemporary dance, while inviting audience to witness artistic exploration other than theatre production. What is dance? We hope to explore this question together, to experience "unboundedness".
The Cantonese pronunciation of "乜" (mat1) can be a blank to be filled in, or a meaning to be defined, implying infinite possibilities. The artists of the M.U.D. platform hope to open up a wider scope of imagination for the audience through their creations in an environment full of constraints. It is like transforming stubborn rocks into fertile soil to nourish new lives.
Artists from M.U.D. have been researching and creating in the past several months. They have finally arrived at the transit – Work-in-progress Videos! A series of M.U.D. videos are launched on CCDC Art Channel for free. They explore and develop their own creative themes according to their interests, the themes are across diverse contemporary practices and disciplines.
Creative Journal
(Only Chinese version is available)
The Artists' Self-Training Workshop
What will seeds grow into if planted in M.U.D?
When we cross boundaries, what dances will our bodies do?
Zelia Tan experiments with dance and techniques;
Peggy Lam and the resilience of materials;
Shirley Lok and puppeteer Chen Ying-ching observe cicadas;
Bobo Lai continuously explores the body through deconstructing her old work from Terry Tsang's perspective;
Eric Kwong and Simpson Yau present the uniqueness of the body through Justyne Li's sense of touch;
Lee Ka Hei's reflection on self-awareness and male body in media portrayal;
Alberto Gerosa and Feng Jing-yi conduct an anthropological study of chicken-blood therapy…
Define Undefined Redefining
Is it a journey or a destination? When everything goes wrong, anything is possible!
Co-presented by

Associated Programme

Co-dancing Space Partner

Blank Space Studio
Acknowledgement
Dick Wong
Sandy Ng
Human Wu
Amy Cheung
CCDC reserves the right to substitute artists and vary advertised programmes
EVENT DETAILS