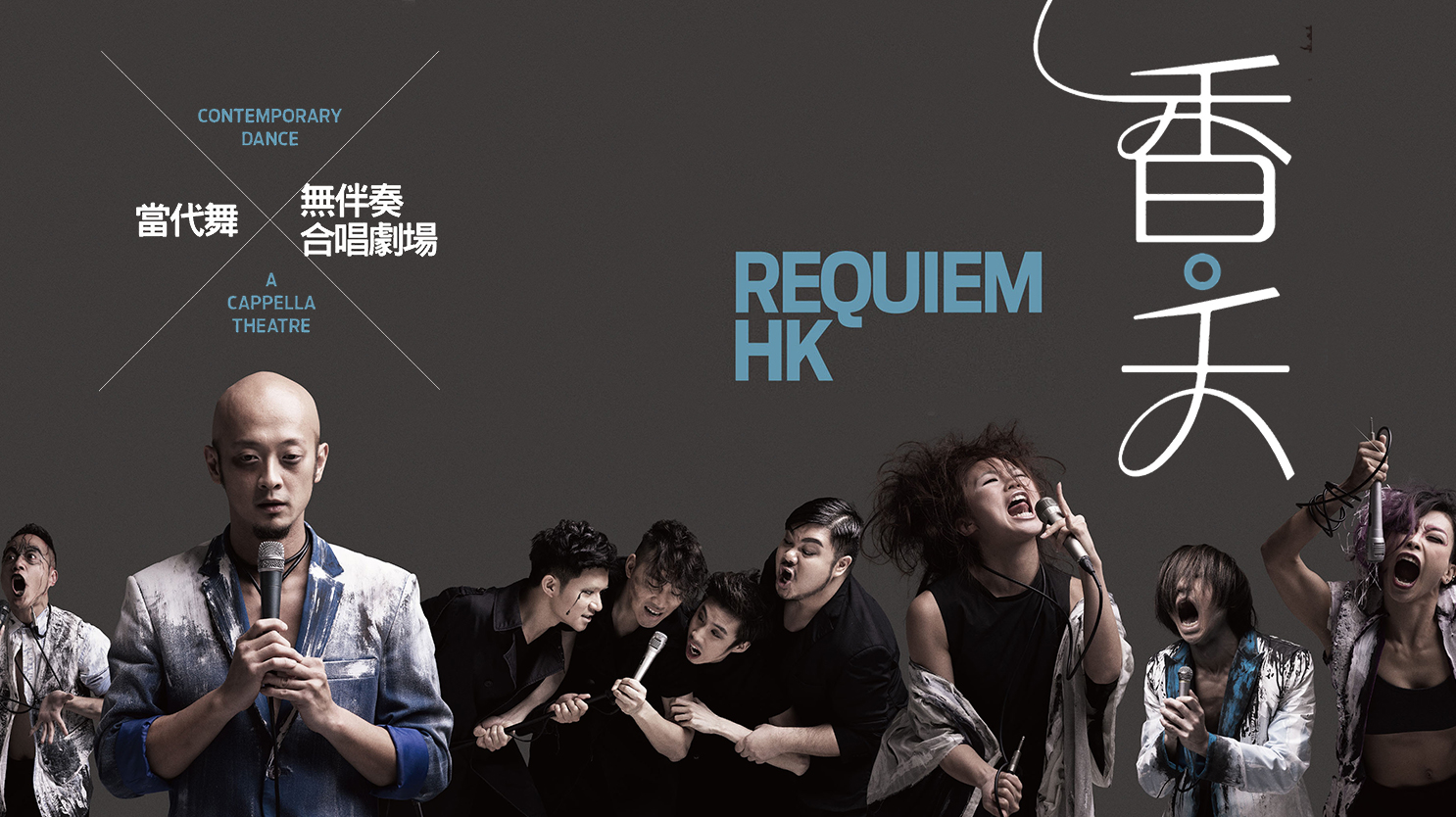 Guest Appearance: Yat Po Singers    Memory lingers, fading into tunes.
Conquer the land, mortal combat, howl till dawn.
The little flower turns blue and falls.
Blowing in the wind are tears. Speechlessly, we speak. Torn apart, awakened; then once again, it comes alive… When dance theatre meets a cappella. A group of sought-after Hong Kong artists – Yuri Ng, Yin Ng and Chow Yiu-fai create a striking work with dancers singing and singers dancing to a requiem for our land.
FREE Programme Plus Events
Open Rehearsal 17.3.2018 (Sat)
11am
Jockey Club Dance Theatre, CCDC Dance Centre
Moving Sound – Interactive Exhibition 19-25.3.2018
Foyer Exhibition Area E1, Hong Kong Cultural Centre
Free Admission
Pop-up Dance Studio 27.3.2018 (Tue)
1-3pm / 3:15-5:30pm
College Hall, HKUSPACE Community College (Kowloon East Campus)
Address: 28 Wang Hoi Road, Kowloon Bay, Hong Kong
Free Admission
In Collaboration with
Make-up Partner
Accessibility Partner
Media Partners
The music Requiem in this production was commissioned by Yat Po Singers Limited in 2016 with partial sponsorship from CASH Music Fund
"A wondrous music theatre… composer Yin Ng combined different modern music styles and genres to chart dramatic changes in emotions."
Lok Fung (Arts Critic)
Contemporary Dance ╳ a cappella Theatre
the artists
Choreography, Set and Costume Design
Yuri NG
Original Music
Yin NG
Music and Choral Direction
Patrick CHIU
Creative Writing
CHOW Yiu-fai
Lighting Design
Lawmanray
Sound Design
HA Yan-pui
Assistant Choral Direction
Ernest HUI
Apr 13 – 15, 2018
13-14.4.2018* [ Fri~Sat ] 8pm15.4.2018^ [ Sun ] 3pm
* With post-performance meet-the-artist sessions
^ This is an Accessible Performance with Audio Description (Cantonese)
Auditorium, Kwai Tsing Theatre
EVENT DETAILS