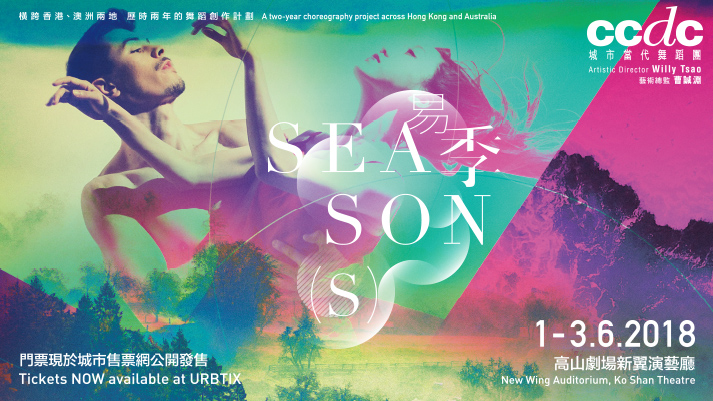 An extraordinary group of contemporary dance choreographers
Dominic WONG (CCDC) X Natalie WEIR (EDC) X Kristina CHAN (Australian-Chinese)
World Premiere in Hong Kong
A two-year choreography project across Hong Kong and Australia.
Three distinctive pieces inspired by climate and life.
Day After Day – Dominic WONG (CCDC)
Life is filled with alternate departures and reunions, like the changing seasons.
Dominic Wong, Assistant Artistic Director of CCDC, looks into cycles of seasons, exploring human relationships in the metropolis.
4Seasons – Natalie WEIR (EDC, Australia)
Natalie Weir, Artistic Director of EDC, works with twenty dancers from CCDC and EDC to capture the fascinating characteristics of the four seasons.
The piece is set to Max Richter's recomposition of Vivaldi's famous violin concerto Four Seasons.
Summer – Kristina CHAN (Australia)
Emerging Australian-Chinese choreographer Kristina Chan makes her debut in the city she was born, exploring heat and survival as global temperature raises and reviewing the impact of climate change.
Season(s) will be toured in Brisbane, Darwin and Beijing after its premiere in Hong Kong.
Season(s) is produced by Expressions Dance Company, City Contemporary Dance Company and Queensland Performing Arts Centre
Hong Kong City Contemporary Dance Company tour to Brisbane and Darwin is supported by the Hong Kong Economic and Trade Office, Sydney, of the Government of the Hong Kong Special Administrative Region
Co-produced by
Media Partners
CCDC x EDC – 4Seasons – Reflecting on the Transformations in the Dance Companies and Dancers
– Preview Article By Felix Chan (Observer)
the artists
Performance
CCDC, Expressions Dance Company (EDC)
Choreography
Kristina CHAN (Australia), Natalie WEIR (EDC) (Australia), Dominic WONG (CCDC)
Lighting Design
Lawmanray
Stage Visual and Costume Design
Cindy HO Pui-shan
Sound Design
Anthony YEUNG
Original Music ('Summer')
James BROWN
Original Music ('Day After Day')
Patrick NG
Jun 01 – 03, 2018
1-2.6.2018* [ Fri~Sat ] 8pm3.6.2018 [ Sun ] 3pm
New Wing Auditorium, Ko Shan Theatre
$250 $180
*With post-performance meet-the-artist sessions
Jun 14 – 22, 2018
2018 Touring – Brisbane, Australia
14-16, 21-22.6.2018 – 7:30pm
20.6.2018 – 11:30am
Australia
Playhouse, Queensland Performing Arts Centre
Jun 29 – 30, 2018
2018 Touring – Darwin, Australia
29.6.2018 / 10:30am
30.6.2018 / 7:30pm
Australia
Playhouse Theatre, Darwin Entertainment Centre
Jul 30 – 30, 2018
Beijing
Tianqiao Performing Arts Center
EVENT DETAILS