Winterreise·The Rite of Spring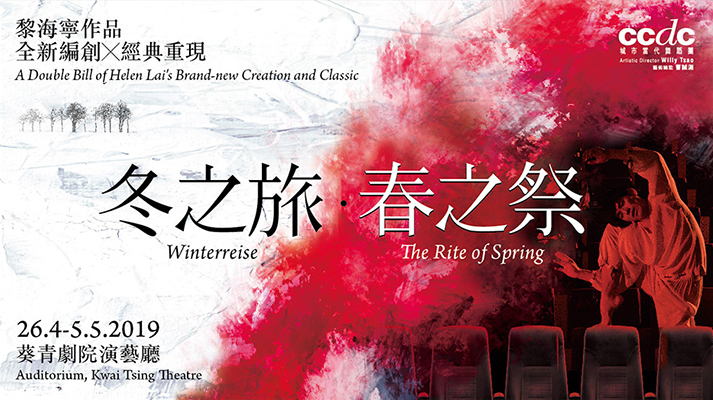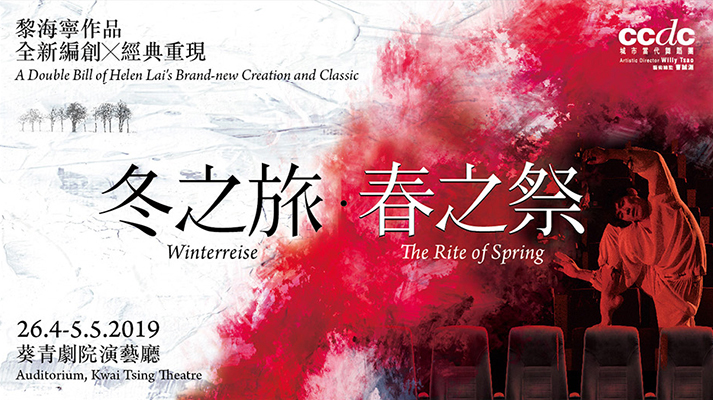 Winterreise
Inspired by Franz Schubert's Winterreise in 1827, Helen's choreography first premiered in 1984. The piece describes the inner journey of a wayfarer travelling alone on the wintry road. This new version of 2019 features live performance by noted pianist Colleen Lee and bass-baritone Apollo Wong.
Composition:Franz Schubert
Bass-baritone: Apollo Wong
Piano Accompaniment: Colleen Lee*
The Rite of Spring
1913. The legendary opening night of The Rite of Spring.
Choreographer, performers, audience, tussle of power.
A three-way tug-of-war, of conflicts and dependencies
Helen Lai's Rite of Spring premiered at Hong Kong Cultural Centre Concert Hall in 1992 and made its debut in Taiwan at Cloud Gate Dance Theatre in 1994. This homecoming production is accompanied by two pianists, Helen Cha and Colleen Lee.
Music Composition:Igor Stravinsky
Piano Performance:Helen Cha, Colleen Lee*
Guest Appearance:Chou Shu-yi, Lai Tak-wai, Li De, Irene Lo*, Pansy Lo, Gigi Yang
*By kind permission of The Hong Kong Academy for Performing Arts
the artists
Choreography
Helen LAI
Set Design
Esther KWOK
Lighting Design
Lawmanray
Costume Design
Taurus WAH
Sound Design
Anthony YEUNG
Apr 26, 2019 – May 05, 2019
26-27.4.2019 8:00pm
3-4.5.2019 8:00pm
5.5.2019 3:00pm
Auditorium, Kwai Tsing Theatre
EVENT DETAILS