M.U.D. – Movement UnDefined 2022 From Constraints to Freedom, Online Serial Journals as unconventional Creative Practice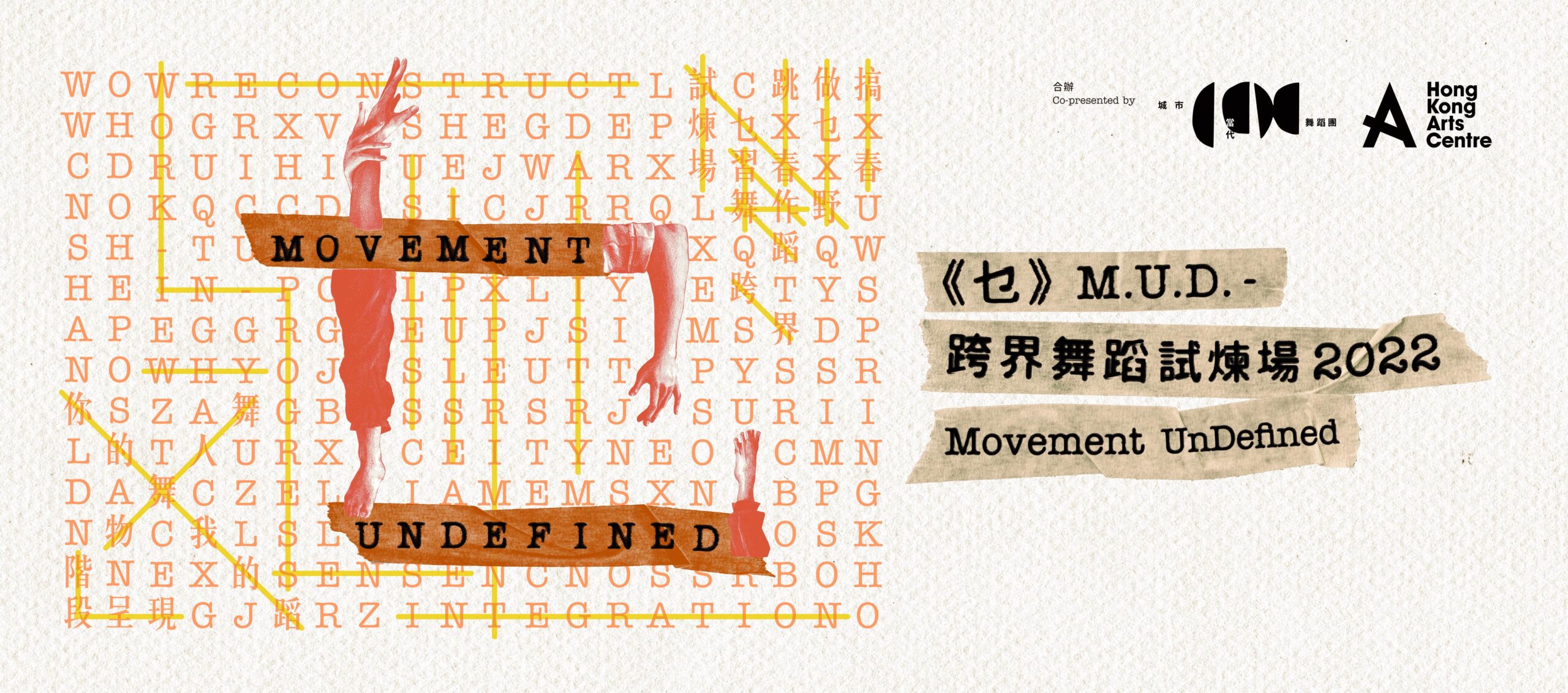 (Hong Kong, 17th March, 2022) Co-presented by City Contemporary Dance Company(CCDC) and Hong Kong Arts Centre, M.U.D. – Movement UnDefined is a new creative and research platform. For more than two months, the artists have been keeping in touch with the audience through the Creative Journal and the showcase, which share their findings in the stages of creative research and reveal their sparks of inspirations. The M.U.D. Creative Journal is now available on City Contemporary Dance Company's website; the showcase will be presented online in April, free of charge, and details will be announced soon.
The Cantonese word "乜" (mat1) can be a word to be filled in, or it can be a meaning to be defined, implying infinite possibilities. As stated by the company's artistic director Yuri Ng, "The situation we are facing may seem disappointing, we can do nothing about the suspension of live performance. M.U.D. hopes to break these constrains, to rediscover possibilities in contemporary dance, while inviting audience to witness artistic exploration other than theatre production. What is dance? We hope to explore this question together, to experience "unboundedness".
The M.U.D platform is born in an environment full of constraints. Unlike the regular programmes of the company, M.U.D. provides a ground for dance artists to practise their creative or choreographic ideas outside of their daily training, and to train themselves through the process of experimentation and regurgitation. After two months of creative practices, they will present to the audience in the form of work-in-progress, demonstrating the organic nature of art and its continuous growth and development through this "unconventional" form of performance. The programme is co-presented with Hong Kong Arts Centre (HKAC) and openly called for proposals through the platform of HKAC, the two open call works will be included in the showcase later.
"What means by 'Arts at the Centre?' It means to place "arts" as the central core value. We've invited Human Wu T.L. (Architectural designer & educator), Sandy Ng (Founder of Hong Kong Martial Arts Science Association), Amy Cheung (Conceptual Artist), and two Contemporary Dance Artists Dick Wong and Yuri Ng as our panel members in this project. I thank them for their effort, to demonstrate how arts reveals life, on the other hand to expand and liquify the boundary of dance. What would be the outcome eventually? I look forward to exploring with others!" said Ian Leung, Programme Manager of HKAC.
Despite the cancellation the live performance scheduled in early April due to the pandemic, the artists and the production team embrace the idea of turning restrictions into freedom and keep opening up their imagination through creations. It is like turning stubborn concrete into spring mud, from which new life is nurtured. Followed by a month-long online Creative Journal, the online showcase will be presented to the audience in short videos.
The participating artists of M.U.D. will be free to develop their own creative themes according to their own interests. The first series "Subject or Object" features works by Zelia Tan (CCDC Dance Artist), Peggy Lam (CCDC Dance Artist) and Shirley Lok (CCDC Dance Artist) in collaboration with puppeteer Chen Ying-ching. The dance artists will play with objects to experiment and enrich the relationship between dancers and "object" in the process of creation. In the second series, Bobo Lai (CCDC Dance Artist) will cross-over with guest dance artists Tsang King Fai; and Justyne Li will work individually with Eric Kwong (CCDC Dance Artist) and Simpson Yau (CCDC Dance Artist) to explore the relationship between "choreography and dance" in "Dance you by my name". One the other hand, two works were openly called by Hong Kong Arts Centre and selected by the cross-disciplinary panel that includes The Problematic Workout, a reflection on self-awareness and male body in media portrayal; and Chicken Blood by Alberto Gerosa and Feng Jing-yi, they will conduct an anthropological study of chicken-blood therapy.
Echoing the theme of "Spring" in the upcoming 43rd Dance Season, CCDC hopes that the performing arts and the community in Hong Kong will regain its vitality, as winter turns to spring.
Programme Information
M.U.D. – Movement UnDefined 2022
Programme Date: February – April 2022
Participating Artists
Series 1 [Subject or Object]
Zelia TAN


Peggy LAM




Shirley LOK X CHEN Ying-ching




Open-call selection: LI Ka-hei

Series 2 [Dance you by my name]
Bobo LAI X Terry TSANG


Eric KWONG X Justyne LI




Simpson YAU X Justyne LI




Open-call Selection: Alberto GEROSA X FENG Jingyi
Creative Platform Details: https://qrs.ly/xqdjjpc
CCDC Dance Artist Creative Journal (Regularly Updated, Chinese Only) : 
Sensing Adjacency; Choreographer: Zelia TAN
qrs.ly/wxdkt3u
Behind me; Choreographer: Peggy LAM
qrs.ly/addkt3x
Rebug; Choreographer: Shirley LOK
qrs.ly/ijdkt46
Boiling Bo; Choreographer: Bobo LAI
qrs.ly/cqdkt4c
Solo Together; Choreographer: Justyne LI
Solo Together; Dance Artist: Eric KWONG
qrs.ly/djdkt4g
Solo Together; Dance Artist: Simpson YAU
qrs.ly/7xdkt4i
To download high resolution photos, please visit this link
[About City Contemporary Dance Company]
City Contemporary Dance Company (CCDC), the flagship of modern dance in Hong Kong, undertakes to blaze the path of contemporary dance scene with extraordinary performances representing contemporary Hong Kong culture. Founded by Willy Tsao in 1979 and directed by Yuri Ng, CCDC has presented more than 200 highly-acclaimed original works by leading choreographers and innovative collaborations with artists from other media. City Contemporary Dance Festival pioneer in Asia to reimagine the possibilities of modern dance. It is renowned for translating the vigour and creativity of Hong Kong's multifaceted culture. Since 1980, the Company has accepted 273 overseas invitations to represent Hong Kong in performance at the world's foremost dance stages and festivals, it has been called as "The artistic soul of contemporary Hong Kong"
[Media Enquiry]
Stephanie Mak

Marketing and Development Manager

Tel: 3170 9924 / 9430 2263

Fax:2351 4199

Email:stephanie@ccdc.com.hk

Ronnie Lam

Assistant Programme Manager

Tel:3170 9981/ 9012 4274

Fax:2351 4199

Email:ronnie@ccdc.com.hk
City Contemporary Dance Company is sponsored by the government of Hong Kong Special Administrative Region.
CCDC reserves the right to substitute artists and vary advertised programmes.
Co-presented by:

Associated Programme: