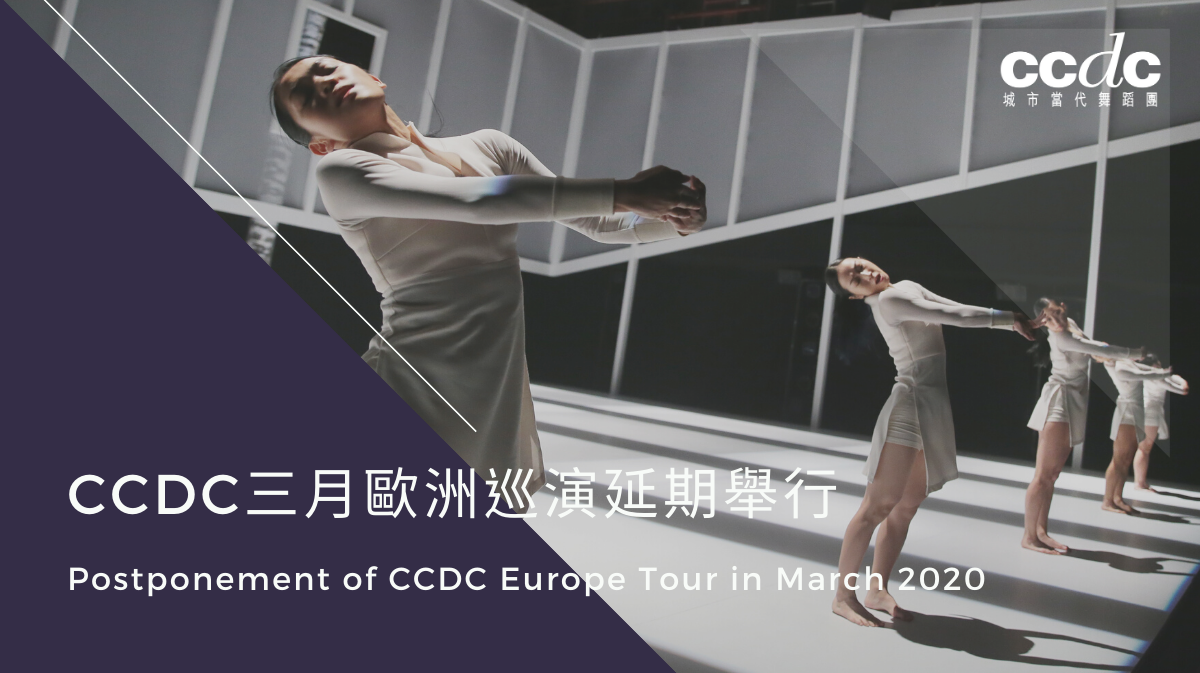 POSTPONEMENT OF CCDC EUROPE TOUR IN MARCH 2020
Considering the collective welfare of our staff members, theatre workers and the audience under the global threat of the Novel Coronavirus, as well as the issuance of outbound travel alert on some areas the company would have performed, CCDC's 3-week tour performances from 13 March 2020 to 12 cities in the Netherlands and Germany have been postponed to the season 2021/22.
This is a huge disappointment for us, as it was the largest scale touring in the past seven years of the company to showcase the artistry of the finest dance ensemble of Hong Kong.
We thank our theatre partners, tour management and consultant who had prepared for this tour in the past two years. We look forward with great gusto that CCDC will be back soon.
"The artistic soul of contemporary Hong Kong"
South China Morning Post
For 40 years under the leadership of Founder and Artistic Director Willy Tsao, City Contemporary Dance Company (CCDC) has inspired and excited audiences with superb contemporary dance performances. Founded in 1979, CCDC has presented more than 200 original works to critical acclaim, including productions by Tsao, Helen Lai, Mui Cheuk-yin, Pun Siu-fai and Yuri Ng. CCDC has also organised innovative collaborations with outstanding artists from other media and with artists from around the world.
CCDC is renowned for reflecting the vigour and creativity of Hong Kong's vibrant, multifaceted contemporary culture, sharing dance works to an audience of more than 50,000 people annually and receiving overseas invitations to perform on some of the world's foremost dance stages and festivals.
Through the China Dance Development Programme, CCDC provides administrative and technical support to emerging Hong Kong and Mainland Chinese artists. CCDC Dance Centre, provides dance facilities, educational programmes and dance courses, ensuring the ongoing development of dance as a vital artistic pursuit in Hong Kong.
For media enquiries, please contact:
KK WONG
Marketing and Development Manager
Tel: 3170 9924
E-mail: kk.wong@ccdc.com.hk
Jerry QIU
Assistant Project Manager
Tel: 3170 9922
E-mail: jerry@ccdc.com.hk