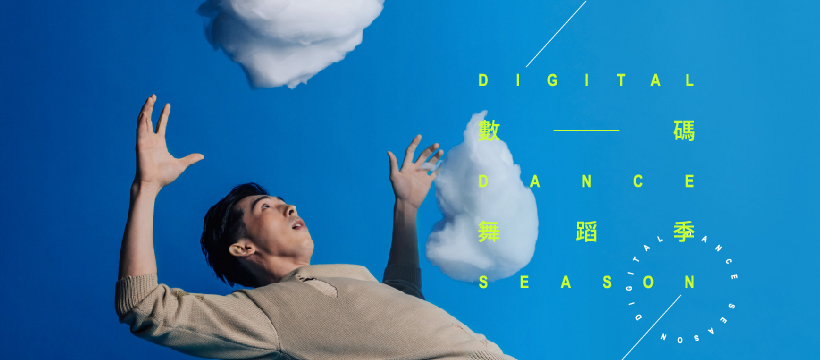 CCDC DIGITAL DANCE SEASON Feeling the pulse of art from afar
The COVID-19 pandemic has been the catalyst for a transformation. CCDC has broken tradition by launching a variety of online activities, allowing art to be part of our lives again and become a source of consolation for our hearts.
Without a doubt, art will continue to stay online in the coming few months. CCDC Digital Dance Season will present many new productions on its online streaming platform from September to October that will be available for viewing for a limited time. We invite you to be a part of this cultural transformation in the new era with CCDC and feel the pulse of art without boundaries!
September will see four local screenings from Jumping Frames International Dance Video Festival making up"Local Focus". These premieres can be enjoyed from the safety and comfort of your own home. Following this is A Lover's Concerto, Episode 1, comprised of three dances performed by three couples from different generations who fell in love at CCDC. In October, three emerging choreographers will introduce original and dazzling dance productions showcasing the creativity of young artists in Project NEXT Wave. Finally, in A Lover's Concerto, Episode 2, the three couples will continue to explore their relationships through the shared beat of each other's hearts. REAL Showcase Series – Solara & Luna, organised by CCDC Dance Centre, will be the grand finale of this digital season. Two dancers are trapped and try to escape from the cycle, looking for the future of "Solara" and "Luna".
Online Launch of CCDC Digital Dance Season
You are cordially invited to join our online launch of Digital Dance Season streaming at 7:30pm on 21 August 2020. The host, Mr Raymond Wong (CCDC Managing Director) and our artists from overseas and local will introduce the programmes. Please register by clicking the links below. The session will be conducted in Cantonese with Mandarin and English simultaneous interpretation on Zoom.
,Please RSVP to yimi@ccdc.com.hk by 20 August to reserve press spot.
More details at CCDC website
For media enquiries, please contact:
Yimi Liu, Assistant Manager (Development)

Tel.:3170 9988

Fax :2352 4199

Email :yimi@ccdc.com.hk

Jerry Qiu, Assistant Project Manager

Tel.:3170 9922

Fax:2352 4199

Email:jerry@ccdc.com.hk