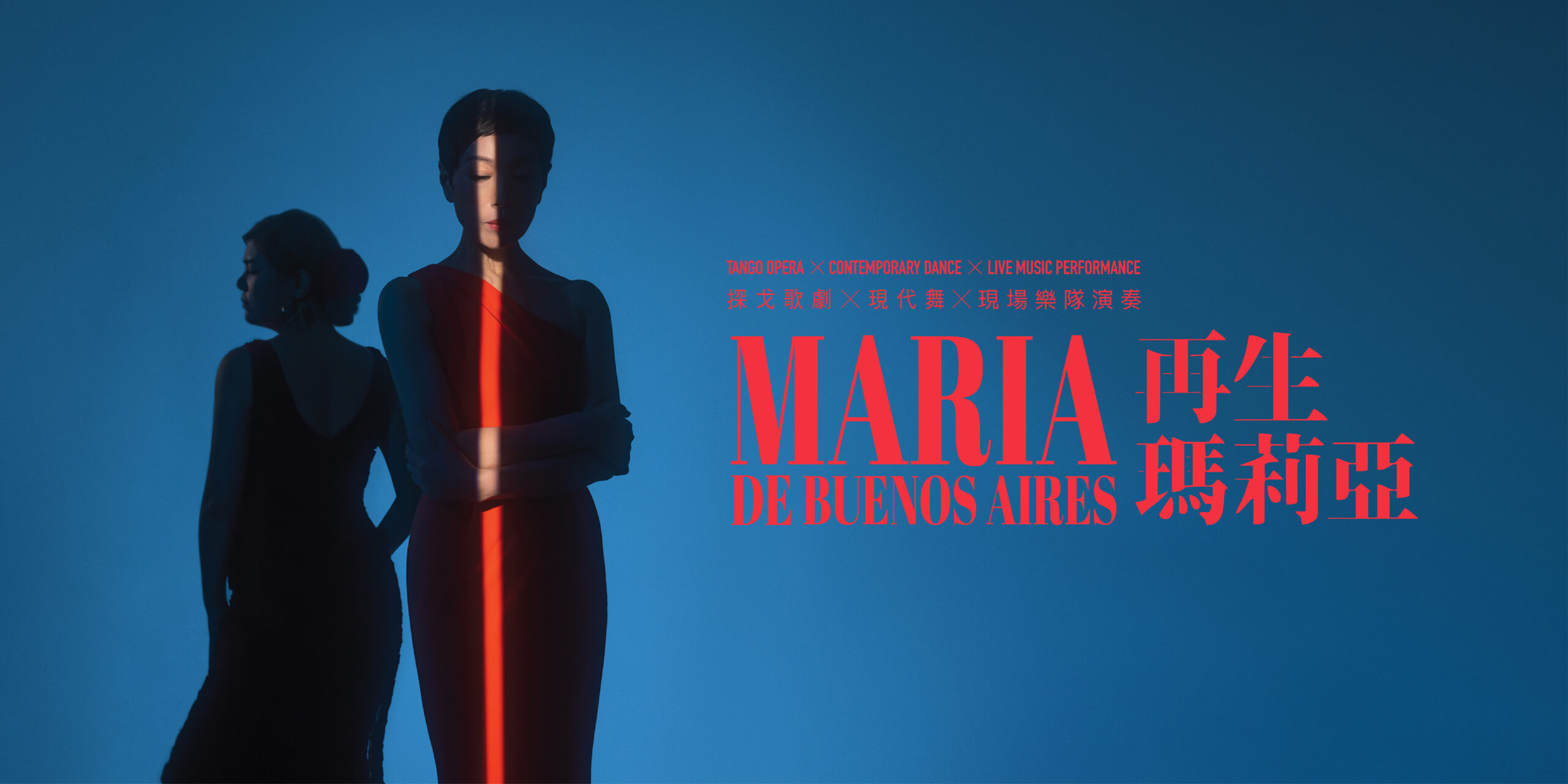 13.5.2022 [Fri] 8PM
14.5.2022 [Sat] 3PM
14.5.2022 [Sat] 8PM*
15.5.2022 [Sun] 3PM*
*With post-performance meet-the-artist session
Auditorium, Kwai Tsing Theatre

$550 | 320 | 180
Helen Lai's Direction and Choreography, Astor Piazzolla's Tango Operita
The Doom and Redemption along the Road to the Cross
God was drunk at Maria's nativity and she has since escaped providence.
Buenos Aires' Maria is both a goddess and a slut, captivating yet scorned upon.
Under the moonlight, she tangoes fatally with passion in the slum,
living a dream that no one dares to.
Birth, decadence and death. Maria's shadow sways along the road to the Cross.
It's time. She is summoned by the spirits. Is it her doom or her redemption?
The Death and Birth of Maria.The Charm of Dance and Tango Opera
Directed and choreographed by internationally renowned choreographer Helen Lai, Maria de Buenos Aires brings together dance artists, opera singers, narrator and musicians to perform the only tango opera by the late Argentine composer Astor Piazzolla, where Maria hovers between life and death, love and hate in the mysterious and magical aura.
Interviewing Helen Lai (Director and Choreographer)
Interviewing Qiao Yang and Carol Lin
Highlights of Weiwuying performance
The performance is co-produced by City Contemporary Dance Company and Weiwuying

Approximately 110 minutes with a 20-minute intermission

Performed in Spanish with Chinese and English surtitles

Audience of aged 6 or above are welcomed
Concessionary tickets are available for full-time students, senior citizens aged 60 or above, people with disabilities & the minder and Comprehensive Social Security Assistance recipients
The presenter reserves the right to change the programme, artists as well as seating arrangements and audience capacities should unavoidable circumstances make it necessary
Operita
María de Buenos Aires
Music
Astor PIAZZOLLA
Text & Libretto
Horacio FERRER
Direction and Choreography
Helen LAI
Conductor
Vivian IP
Female Singer (María)
Carol LIN
Male Singer (Cantor)
David QUAH
Narrator (Duende)
Fernando REZK
Set Design
CHEN Wei-Kuang
Lighting Design
KUO Chien-Hao
Executive Lighting Design
Lawmanray
Costume Design
FAN Huai-chih
Sound Design
Anthony YEUNG
Creative Dancers
Felix KE, Eric KWONG, Bobo LAI, Peggy LAM, Shirley LOK, QIAO Yang, Zelia TAN, Bruce WONG, Simpson YAU
Guest Creative Dancers
LAI Tak-Wai, Jacko NG, CHEUNG King-yu
Accordion
Nazar TABACHYSHYN
First Violin
Nina WONG
Second Violin
Winnie LAW
Viola
Joelion KEUNG
Cello
Daniel LEONG
Double Bass
Evette CHIU
Piano
Linda YIM
Guitar
Chris COLLINS
Flute
Marco LEUNG
Percussion
Raymond VONG, Lily HOI
Music Coordinator
KC Arts Management Limited
EVENT DETAILS