Pa | Ethos & Dancing Philosophy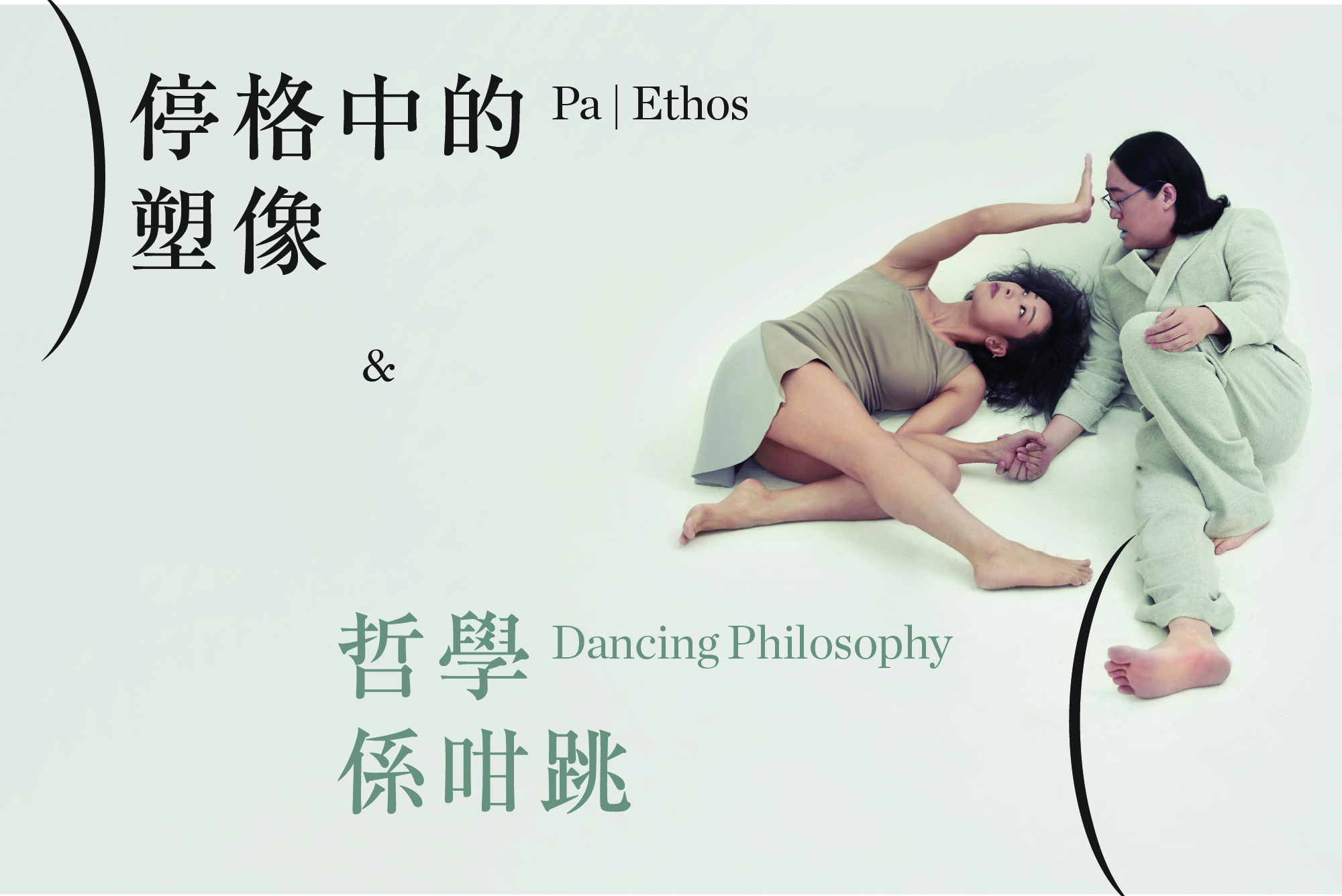 When moving bodies and moving minds intersect
'Tableaux' and 'keep dancing' appear to be at both ends of the spectrum, but they actually gravitate towards each other. Between stillness and rhythm, what will the body and the mind spark off? Pa | Ethos depicts the condensation of pure bodily movements, while Dancing Philosophy transforms thoughts into spatial movements; both works explore the collision and association between the body and the spiritual world respectively through pure dance movements and lecture performance. These exchanges let any boundaries vanish. CCDC juxtaposes these two contrasting works, inviting the audience to keep their minds open and eyes active. Let's ride the wind, step into the cross-disciplinary yaw, and keep flowing.
Dance at the Pinnacle of Poetry
Amidst the aestheticism of sculptures, dancers set free the bountiful primal passion beneath with the optimum rhythm. Infinite possibilities are born between the movement and stillness of imagination, presenting a branch of aesthetics beyond compare. Inspired by Aristotle's Art of Rhetoric, this work has toured 11 times in Italy, the Mainland and other locations before staging in Hong Kong with a special version. Choreographer Sang Jijia's exquisite sensibility and composer Dickson Dee's spirited electronic music are welded together to reshape the poetry of the body.
"Classical philosophy, oriental thought, electronic music and dance come together in a refined and passionate show." 
– Marche Teatro
When the Body Articulates and Words Dance
Philosophers question and debate unceasingly to search for the meaning of the world, of knowledge, and of humanities and arts. In the debut cross-disciplinary collaboration between Corrupt the Youth and CCDC, they question the essences of body and movement with Artistic Director Yuri Ng. They exchange ideas and pose questions in the form of 'keep talking, keep dancing': What is dance? What is contemporary dance? Why dance here and now? When one starts to dance, is it the brain, body, or mouth that moves? Let's explore the dancing boundaries of philosophers at the theatre.
Discount Schemes at URBTIX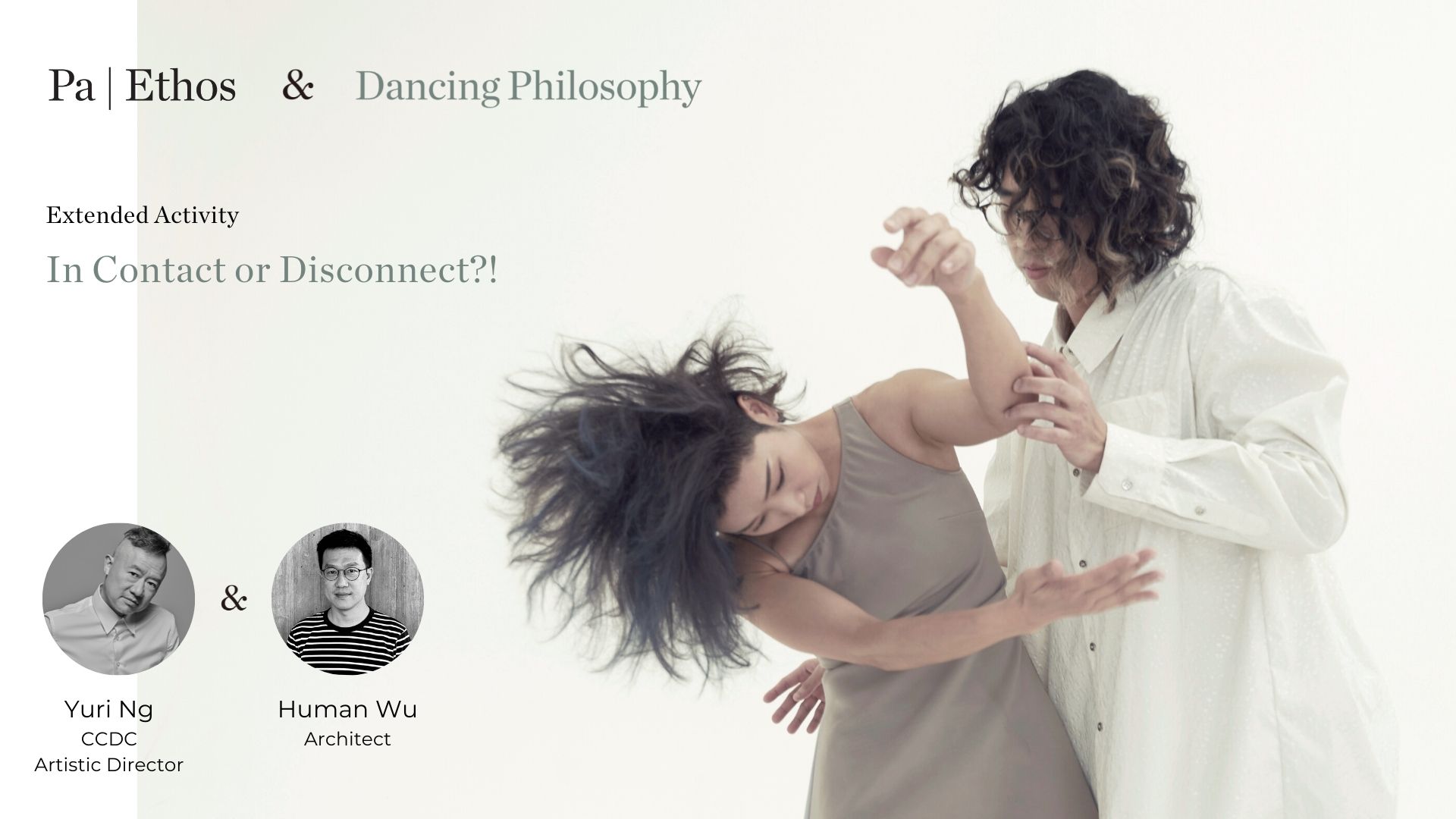 In Contact or Disconnect?!
A three-session workshop series, starting with a guided stroll around the city, will explore the body's physical response to the urban environment through the lens of dance in terms of our senses, such as sight, touch and movement. How do urban configurations and body aesthetics interact and respond to each other? Can we respond with a different approach?
Dates: 20 Aug, 26 – 28 Aug, 3 Sept
Docents: Yuri Ng (CCDC Artistic Director), Human Wu (Architect)
Workshops will be conducted in Cantonese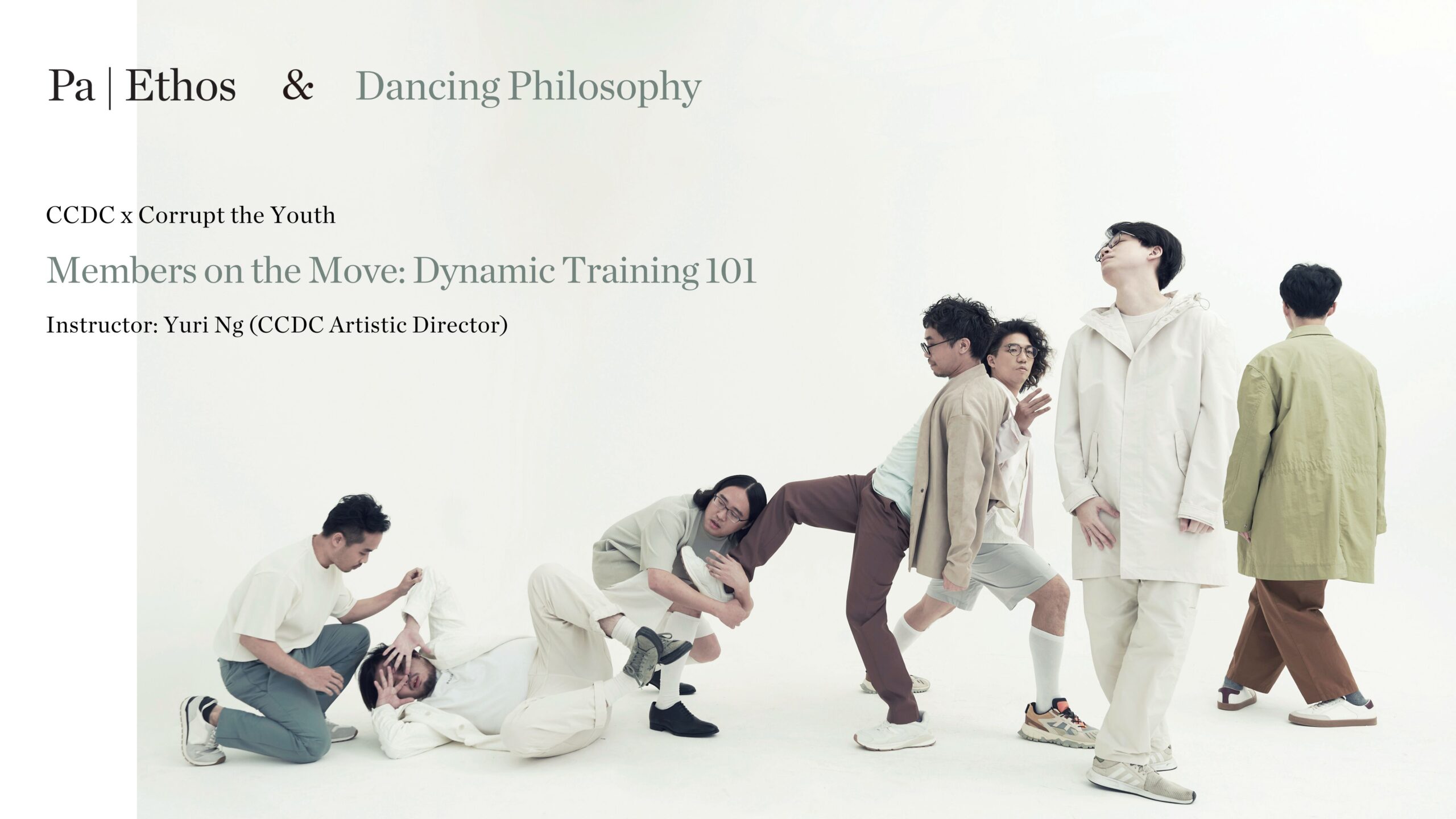 CCDC x Corrupt the Youth | Members on the Move: Dynamic Training 101
Are philosophy and dance at both ends of the spectrum, or are they two sides of the same coin?
In this two-hour movement training workshop, Yuri and members of Corrupt the Youth will explore and encode the body and creation process.
Date: 12 Aug 2022 (Fri) or 13 Aug 2022 (Sat) (Choose one)
Time: 8-10pm
Instuctor: Yuri Ng (CCDC Artistic Director)
Workshops will be conducted in Cantonese
Media Partner

Programme Plus Partner

Duration is approximately 2 hours with 15-minute intermission
Performed in Cantonese with no surtitles
Audience of aged 6 or above are welcomed
The presenter reserves the right to change the programme, artists as well as seating arrangements and audience capacities should unavoidable circumstances make it necessary
26.8.2022 [Fri] 8PM
27.8.2022 [Sat] 3PM
27.8.2022 [Sat] 8PM
28.8.2022 [Sun] 3PM
Auditorium, Sha Tin Town Hall
$320 | $260 | $180
Tickets now available at URBTIX
Pa | Ethos
Choreography
Original Music
Dickson Dee
Rehearsal Master
Performance
Suyi HON, Felix KE, Natalie KO, Eric KWONG, Bobo LAI, Peggy LAM, Shirley LOK, Brian YAM^, Simpson YAU
Guest Performance
Charlie LEUNG*
Lighting Design
Lawmanray
Original Video
Luca BRINCHI
Costume Design
Giuseppina MAURIZI
Sound Design
Anthony YEUNG
Acknowledgement
Fondazione Fabbrica Europa per le arti contemporanee (Italy), Spellbound Contemporary Ballet (Italy)
^ The Artistic Internship Scheme is supported by the Hong Kong Arts Development Council
* By kind permission of Beyond Dance Theater
Dancing Philosophy
Creation & Performance
HUNG Yan, KONG Man-ki, KUM Long-yin, KWAN Ho-chuen, KWONG Chun-man, LAI Ka-lok, LI Hong-ting, TSE Sze-fan, YEUNG Chun-yin

Stage Direction
Creation & Live Accompaniment
Cynthia CHAN
Lighting Design
Lawmanray
Sound Design
Anthony YEUNG
EVENT DETAILS
Related Events