Ben Sir's Dancing Academy – from taboo to BENboo, Dance Theatre in Education for Families and All. Join Ben Sir and CCDC this Christmas season and dance our taboos away!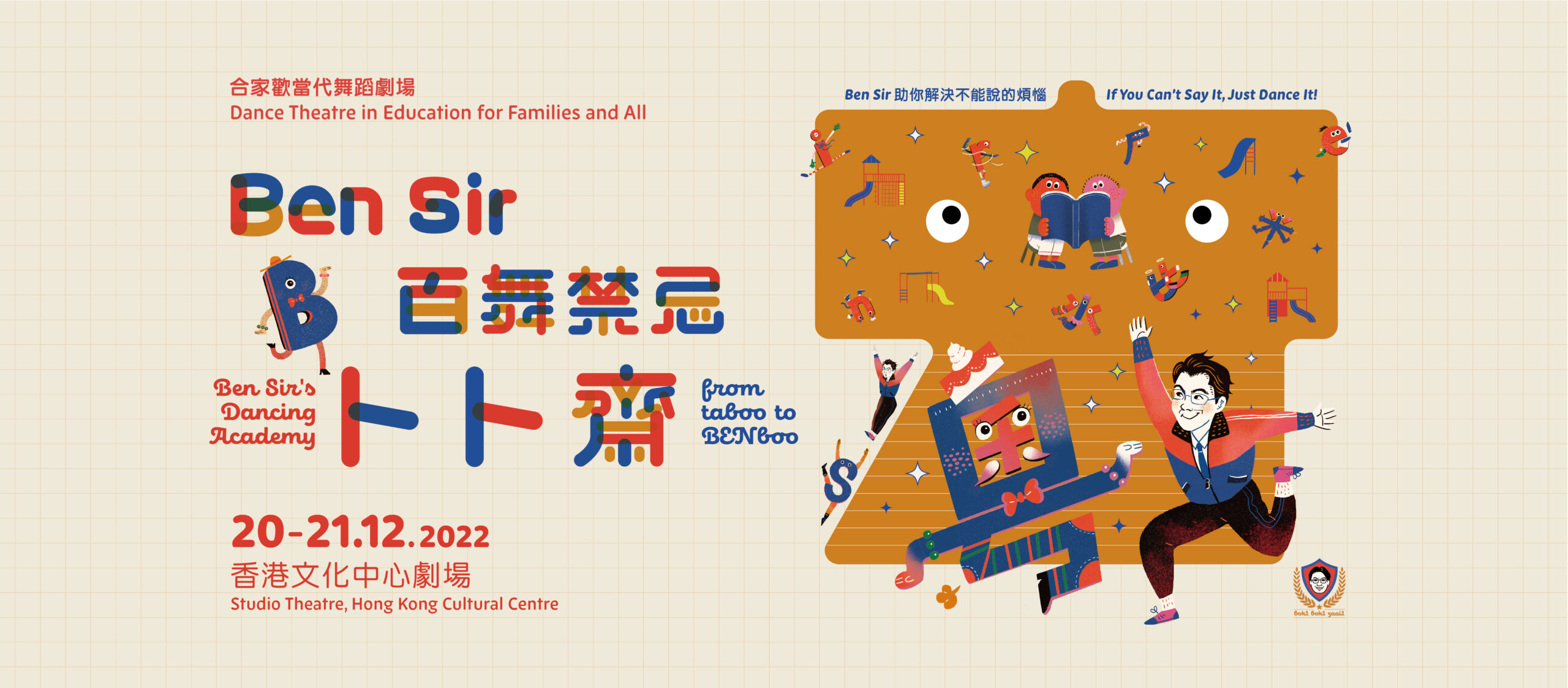 (Hong Kong, 17th November 2022) City Contemporary Dance Company (CCDC) continues to push boundaries and showcase the diversity and versatility of contemporary dance in Hong Kong to represent contemporary Hong Kong culture. As Christmas approaches, CCDC is collaborating with Cantonese linguist Ben Sir, co-created a brand-new educational dance theatre piece titled Ben Sir's Dancing Academy – from taboo to BENboo. In this joyous and educational dance theatre piece, Ben Sir takes the challenge of dancing, Ben Sir and the performers breathe new life to "vulgar" words and phrases through spoken lyrics and dance. As adults and children show off their Canton prowess while breaking a sweat together, all taboos are thrown out the window. Ben Sir's Dancing Academy – from taboo to BENboo takes place across 5 shows at the Studio Theatre, Hong Kong Cultural Centre from 20 to 21 December 2022. Tickets now available at URBTIX and exclusive family packages now available on Klook.
Adult: "Don't say that word, kid… and that word as well…"
Child: "What exactly am I not allowed to say?"
Children are often told by adults which words are off-limits and shouldn't be uttered.
But what if they sang them, or danced them out?
Breaking Barriers With Family Fun
Following the success of its 'cool' summer hit Luck-quacka in 2021, CCDC is presenting a fun and educational production this winter that is perfect for families during the festive season.
The family-oriented performance is not only suitable for children but will also resonate with grown-ups. CCDC's Artistic Director Yuri Ng said, "This will be a colourful dance theatre piece that captivates young audiences with various quirky body movements, words, and sounds. At the same time, our Cantonese expert Ben Sir will provide commentaries on the dance, making it an engaging experience for the adults as well." Ben Sir, a linguist and passionate stage performer, will transform into a physical education teacher in this production, on top of being the creator of the script. By combining dance and teaching, he encourages adults and their children to throw taboos out the window and utter "vulgar" words and phrases that are usually "censored" in everyday life. The performance will be a wonderful opportunity for families to break linguistic barriers and communicate with greater ease; as well as a good educational topic for adults to discuss with their little ones.
The dance drama is the latest creation from Yuri that explores the intriguing relationship between body and language, following his previous works LauZone and Home Sweat Home, which also revolved around the theme of language. This time around, Yuri's collaboration with Ben Sir homes in on "taboos" in the Cantonese language, inviting adults and children alike on an interesting and light-hearted journey through dance and dialect.
Stepping out of Classrooms Into Theatre
The production's title is a play on the word "bamboo" that recalls the strict traditional classroom settings where pupils were punished with wooden or bamboo sticks for failing to, for example, recite passages or obey rules. This echoes the title in Chinese'卜卜齋' which mimics the sounds of beating sticks. In this performance, the team aims to break the mould and curate a unique experience outside classrooms that borrows elements from contemporary performing arts.
CCDC Dramaturg Melissa Leung said, "Dance is a medium through which we use our bodies to feel what's within and outside of ourselves, and a way for us to understand ourselves and the things around us. Through movements, we can learn without constraints––sow seeds of 'curiosity'; water flowers of 'exploration', and pick fruits of 'creation'." Through the educational dance, CCDC hopes to create a joyful and uninhibited environment where children can explore their imagination and learn more productively anywhere, anytime.
Ben Sir's Dancing Academy – from taboo to BENboo will be taking place at the Hong Kong Cultural Centre Studio Theatre at around the same time as another CCDC dance programme Brown, a collaboration with South Korean choreographer Kim Jaeduk. Over this period, aduiences will be treated to a dazzlingly diverse programme from a quirky and fun dance drama "on a sports field" to a contemporary masterpiece filled with vibrant dynamics and piercing sentiments. The two productions will mark a spectacular end to CCDC's 2022/23 dance season 'Dance MUD Spring', as they signal a brand-new season next year based around the theme of summer.
Ben Sir's Dancing Academy – from taboo to BENboo Programme Details
Date and Time
20.12.2022 [Tue] 4PM, 7:30PM

21.12.2022 [Wed] 2PM, 4PM, 7:30PM

Venue
Studio Theatre, Hong Kong Cultural Centre
Tickets
$200 | $100* Tickets now available at URBTIX.

And exclusive family packages now available on Klook

$400 Family Package (2 Adults + 1 Child)

$480 Family Package (2 Adults + 2 Children)

$1,000 Family Package (6 Adults + 1 Child)

*Concessionary tickets are available for full-time students, senior citizens aged 60 or above, people with disabilities & the minder and Comprehensive Social Security Assistance receipts

Ticketing Enquiry
3761 6661
Programme Enquiry
2329 7803; info@ccdc.com.hk
More Details
https://qrs.ly/p9eai5u
Online Booking
Urbtix: https://qrs.ly/mzeaekj

Klook:  https://qrs.ly/zmeaekb

Press Photos
https://qrs.ly/4neallx
Remarks:
Audience of aged 6 or above are welcomed.
Approximately 60 minutes.
Conducted in Cantonese.
Creative Team
| | |
| --- | --- |
| Creation, Stage Direction, Costume & Stage Spacial Concept: | Yuri NG |
| Creation, Performance Text & Performance: | Ben Sir |
| Dramaturgy: | Melissa LEUNG |
| Performance: | HUI Ka-chun, LEE Ka-ki, Carmen YU |
| Lighting Design: | Lawmanray |
| Sound Design: | Anthony YEUNG |
| Cantonese Research: | Rachel CHAN, Michael MOK |
About the Creative Team
Ben Sir

Creation, Performance Text & Performance

In the 1980s, Benjamin Au Yeung (Ben Sir) was a PE instructor and obtained the Imperial Society of Teachers of Dancing's Junior Certificate (National Dance) at Grantham College of Education. However, he did not have the opportunity to teach dance until he was invited to perform with the City Contemporary Dance Company (CCDC) more than 30 years later, unleashing his dancing talents once more.

Ben Sir went to graduate school to study a PhD programme in Cantonese grammar. After obtaining his doctoral degree, he was a senior lecturer at Department of Chinese Language and Literature of Chinese University of Hong Kong (CUHK). In his spare time, he promoted Cantonese language and culture, such as the relationship between the nine tones of Cantonese and poem composition, thus highlighting the dynamics of Cantonese tones. Apart from the tones, Cantonese grammar is also rhythmic, such as in the expressions like "hung4 dong1 dong6", "baak9 syut7 syut7", "laap6 laap6 ling6", "ling6 lap6 lap6", etc., and it was a great challenge for Ben Sir to incorporate the rhythmic nature of the Cantonese language into dance moves.

In 2017, Ben Sir left the comfort zone of academia to become a full-time artist. It was at this time that he performed solo in two different talk shows organized by TVB and Ming Pao Press. There is nothing wrong or taboo with performing solo, but, given that Ben was still a beginner at the time, how did CCDC collaborate with him for Ben Sir's Dancing Academy, his upcoming performance? As the Chinese saying goes, "nothing is taboo", so let us brace ourselves for Ben Sir's premiere!

Yuri NG, CCDC Artistic Director

Creation, Stage Direction, Costume & Stage Spacial Concept

Born in Hong Kong and an experienced dance artist, Yuri Ng has been involved with ballet, contemporary dance, drama, classical music and a cappella, as well as stage setting and costume design. He began classical ballet training with Jean Wong at the age of six, going on to win scholarships to study in Canada and the United Kingdom. He was awarded the Adeline Genée Gold Medal from the Royal Academy of Dancing (RAD) in 1983 before joining The National Ballet of Canada as a dancer.

After his return to Hong Kong in 1993, Ng established a strong connection with CCDC. He worked with the Company on many performances, including A Game of ____ (1993) as choreographer and set and costume designer; The Second Shirt Skirt Show (1995) and Love On Sale (2008) as choreographer; le beau (1996) and The Firecracker (1997) as choreographer and costume designer. He contributed to Seasonal Syndromes (2008), Very Dance (2009) and The Legend and The Hero (2011) as stage/set and costume designer, and to Requiem HK (2018) as choreographer, set and costume designer.

Yuri received the Artist of the Year Award – Choreographer from Hong Kong Artists' Guild in 1997 and in 1998, and was awarded the Prix d' Auteur at the Sixth  Rencontres Choreographiques Internationale de Seine-St-Denis (Bagnolet) for his choreography of Boy Story. His two solo pieces choreographed for Genée International Ballet Competition in 2006 have been adopted into the RAD syllabus. His choreography of A Soldier's Story, in collaboration with Hong Kong Sinfonietta, received the Hong Kong Dance Awards in 2008. He won a Distinguished Achievement Award at the Hong Kong Dance Awards 2012 and Award for Best Artist (Dance) from the Hong Kong Arts Development Council in 2013. Ng also won Outstanding Choreography and Outstanding Large Venue Production for Requiem HK at the Hong Kong Dance Awards 2019.

Yuri Ng is currently the Artistic Advisor of Yat Po Singers. He was the Hong Kong Sinfonietta's Artist Associate from 2011-2013.
About City Contemporary Dance Company
City Contemporary Dance Company (CCDC), the flagship of modern dance in Hong Kong, undertakes to blaze the path of contemporary dance scene with extraordinary performances representing contemporary Hong Kong culture. Founded by Willy Tsao in 1979 and directed by Yuri Ng, CCDC has presented more than 200 highly-acclaimed original works by leading choreographers and innovative collaborations with artists across various media. City Contemporary Dance Festival has pioneered in Asia to reimagine the possibilities of modern dance. It is renowned for translating the vigour and creativity of Hong Kong's multifaceted culture. Since 1980, the Company has accepted 273 overseas performance invitations to represent Hong Kong at the world's foremost dance stages and festivals. It is regarded as "the artistic soul of contemporary Hong Kong".
City Contemporary Dance Company is supported by the Government of Hong Kong Special Administrative Region.
Media Enquiry
Stephanie Mak

Marketing and Development Manager

Ronnie Lam

Assistant Marketing and Development Manager

Tel: 3170 9924 / 9430 2263
Tel: 3170 9981 / 9458 9267
Fax: 2351 4199
Fax: 2351 4199
Email: stephanie@ccdc.com.hk
Email: ronnie@ccdc.com.hk
City Contemporary Dance Company reserves the right to substitute artists and vary advertised programmes.